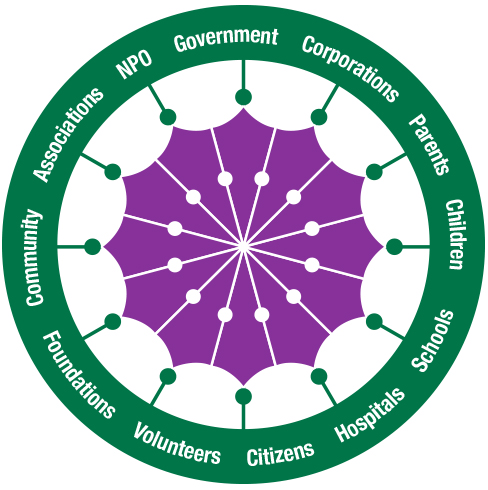 Our Mission
To educate, innovate and inspire entrepreneurial philanthropy* by creating partnerships and leading by example.
We believe in empowering the community through education to ensure that people have the tools, resources, abilities and training to make their dreams a reality and create their own path to prosperity.
By investing in people, we reap returns that benefit not only the individual, but our entire community.
Our philanthropic philosophy is best explained through our symbol: the Wheel of Life
The way we see it, each part of the wheel has an important role to play when it comes to bringing about positive change. But, it is only when working together that they can take on the shape of the circle. The center of the wheel, our conception of the better world we are all working to create, takes on the shape of the heart chakra in reverse, implying that our every action is an expression of love for our common humanity.
There's no reason to reinvent the wheel. At the Roasters Foundation, our goal is simply to bring together the various components and help them roll in the same direction, toward a better, healthier and happier community for the future.
Partnering With Others
Many people and organizations are working to make our community a better place: governments, non-profits, corporations, foundations, associations and private individuals. But sometimes they work in different directions, with results that are less than they could be.
The key is collaboration!
From fundraising campaigns to programs benefiting the community, Roasters Foundation emphasizes the value of partnerships and proposes this formula for success:
Identify the strengths of each player
Build bridges between everyone involved
Coordinate all efforts effectively
Limit duplication of effort
Create harmony between all organizations involved
Celebrate collective and individual accomplishments
* What is entrepreneurial philanthropy?
Emphasizing both profitability and accountability as the best forms of sustainable development and poverty reduction, entrepreneurial philanthropists are private individuals who act in the name of social justice and not from profit-seeking motives. (American Enterprise Institute for Public Policy Research, 2007).

Entrepreneurship in the field of philanthropy involves finding new and better ways for mobilizing and deploying resources to make the world a better place. (Center for the Advancement of Social Entrepreneurship, Duke University)